Necklace made from brown and red seeds. This specific piece was made in a safe house in Medellín. ImPerfect Jewelry is made from tagua, a seed unique to South America, and is assembled individually by hand.
Materials

ImPerfect Jewelry is made from tagua and Asai seeds. These seeds are unique to South America.
Return Policies

We offer a 30 day money back guarantee. If you are unsatisfied with your purchase for any reason, you can return it 30 days from purchase.
Shipping

All of our shippers are volunteers to ensure that maximum profit is dedicated to the social project. The shipping costs are already built into the price. There will be no additional charges for shipping.
Fair Wages +

Reincorporated NFP is a non-profit retailer. This project not only pays the artisans above the average rate for their work, but the profits from these products go towards improving the quality of life of the artisans and the people around them.
Social Impact
More About ImPerfect Life Project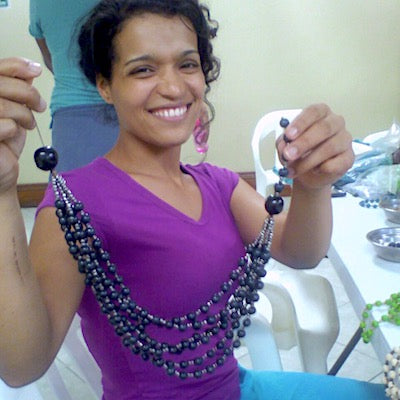 ImPerfect Life Project was Reincorporated's first commerce-based project that used the retail model to aid social change and was established to help spread awareness and aid in healing women who were victims of human trafficking, slavery, and abuse in Colombia. Once a week, volunteers would meet with women in safe homes to make bracelets and necklaces; during these workshops, we found that the woman began to use the space to open up and share their personal journey that aided in their healing process. Although this project is no longer in operation, you can still purchase these pieces representing the journey of a woman's path to healing and a new life free of exploitation.  
The profits from these pieces go back to Reincorporated to help support the jobs of our female staff members.